This FAQ is intended for customers using the platform of 3D-Side ONLY
F.A.Q. Service Desk Customize
How do I acces the platform?
---
The platform is only accessible with these browser versions (and later) :
Google Chrome 33
Edge 12
Firefox 29
Safari 7.1
Note that if you want to upload some images (https://3dside.3d-customize.com/upload), you can do it using Internet Explorer 11. However, this is the only task that you can perform using IE, the other functionalities are not available with this browser.
If you are accessing the platform from a hospital, it is likely that a firewall is blocking the access. In that case please ask an IT administrator to allow the access to our platform.
---
How to validate my account?
---
After registering your account, you will receive an e-mail asking you to validate your e-mail address. When this is done, 3D-Side will allocate you the requested role and grant you access to the platform.
---
How do I (re)set my password?
---
Simply go on the login page (https://3dside.3d-customize.com/login) and enter your mail address in the field "Username". Click on "Forgot your password": a reset link will be sent to your e-mail address. Note that this link expires after 24 hours, if this delay expires you will have to make a new request.
---
I want to add images to an existing case. How do I do?
---
Go on the upload page and in the field "Are you sending additional images (patient already in the system)? *", check yes. You can then enter the corresponding case number.
---
How do I draw on the delineation tool (2D-link)? How do I validate my drawing?
---
To have more details about the controls/shortcut of the 2D-link task, click on the keyboard icon (1) in the top right corner. Here are some quick tips to start with :
Be sure the polygon (2) mode is selected to be able to draw on the current slice
Left click with your mouse at the location where you want to place a new point for the current polygon (4)
Continue until your polygon is closed
Press "Enter"on your keyboard to validate the current slice (5)
Press "Escape" on your keyboard to erase the current slice
Use the wheel of your mouse to navigate through the slices and proceed with your drawing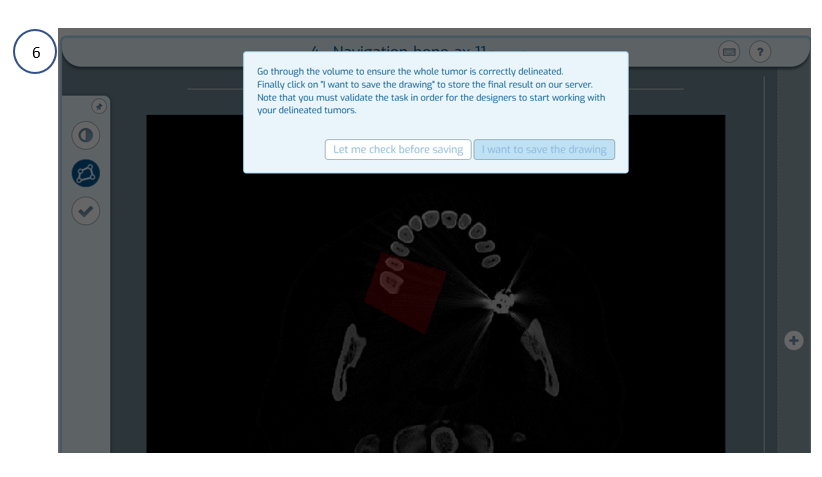 Once you are satisfied with your drawing, do not forget to validate it by pressing the icon (3) in the bottom left corner. After that, press on "I want to save the drawing" (7) and finally on "Validate task" (8).
Caution: if you do not click on "Validate task", we will not see that you completed the drawing.
---
---